About Us
DOUGLAS MODELS DISTRIBUTORS Since 1934
Company founder Jack H. Douglas (b.1915), spent years selling balsa wood and tissue paper flying aircraft models from under his bed, until he had scraped together enough money to open his first store (18 x 20 feet) -- Douglas Model Aircraft -- at 105 East 200 South in Salt Lake City on November 15, 1934. Here he began manufacturing his own flying model kits (you could count the number of national manufacturers on less than one hand!). Yet He still found time to serve as a brakeman for the Rio Grande Railroad line, just like his father, who was a conductor.
On August 10, 1941, he moved to a larger shop (30 x 80 feet) with a full basement at 123 East 200 South.Using half the basement, he set up the first large model railroad loop (20 x 50 feet).A year later he moved the store to 133 East 200 South.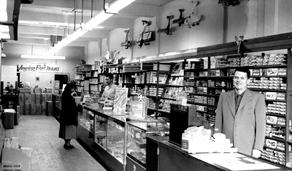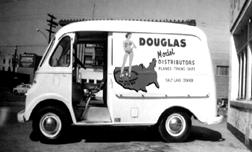 Government rationing during World War II cutoff the supply of metal for model railroad rails and model airplane gas engines as well as that of balsa wood for modeling. As a substitute, modelers used pine and redwood.Early in the war, Jack served as an aviation ground school instructor to US Army Air Corps students at the University of Utah.His new wife, the former Fern Richardson of West Jordan, Utah, watched over the business while he was instructing as well as when Jack went off to serve in Marine Corps Aviation.Not to be outdone, Fern trained as a ¡°Women¡¯s Air Force Service Pilot¡± in the US Army Air Corps during the final year of the war.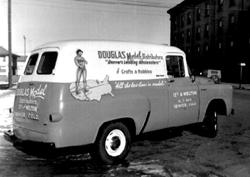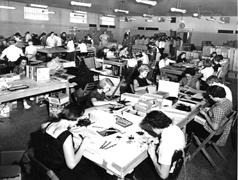 On November 12, 1945,Jack returned to open his first wholesale outlet -- Douglas Model Distributors -- adjacent to his retail operation.In 1949, the first plastic model kits were introduced, revolutionizing model building with their ease of construction and detail. In 1956, Jack rented the old O.P. Skaggs Grocery Store at 122 East 200 South. Here he set up a model train set assembly line for his close friend, Irv Athearn, at one point employing as many as 200 workers.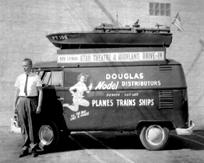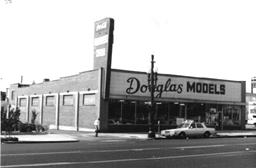 In 1957, Jack combined location for both the Douglas Models retail store and wholesale warehouse, and operated here until July 1, 1983.
Jack established a 2500 sq. ft., wholesale branch of the company at 12th and Welton in Denver, Colorado, on August 17, 1952. Almost immediately it proved to be too small for the amount of business he was getting on the east side of the Rockies. So he built a new 6000 sq. ft. warehouse at 1075 South Fox Street, opening July 1, 1958. Seven years later on June 16, 1965 it was destroyed, washed away by a huge wall of water when the South Platte River flooded the city,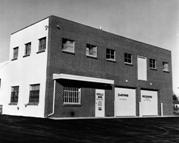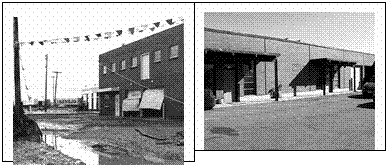 Jack rebuilt the Denver operation (on higher ground) at 130 Lipan Street, where it operated continuously until February 15, 2000, when operation was consolidated with the SaltLakeHQ location.
As downtown SaltLake grew, high-rise office buildings displaced smaller, family-businesses to the suburbs.Jack built a new retail/wholesale warehouse at 2065 East 3300 South, opening August 1, 1983.He subsequently passed away in late July 1999.
In 2004 the Douglas family sold its share of the business to Douglas Models Distributors LLC and so ends a decade of Douglas owned business and a new family takes over the task of moving to the next decade with the same passion and dedication that defined Jack Douglas and Douglas Models.
In early 2004 our retail store was moved to a new 3,000-sqft location. At 7700 S Redwood Rd, West JordanUT84084
And at the same time our rapidly growing wholesale distributing operation has moved to a its new 20,000-sqft warehouse located on
8385 South Allen Street, Suite 138, in West Jordan, Utah 84070.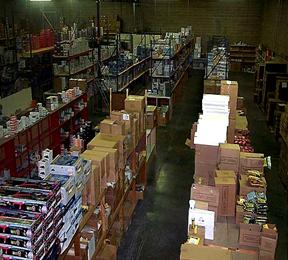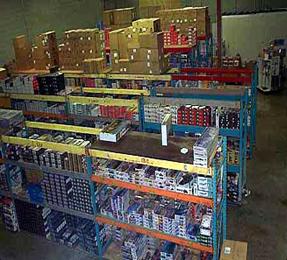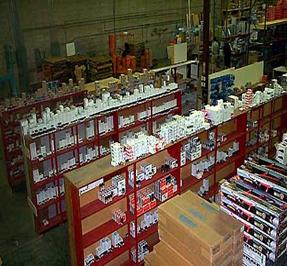 In 2012, Douglas Models moved to 620 Haines in Liberty, Missouri 64068.
Our new website, www.douglasmodels.com, is a full service tool that provides not only real time inventory and an ordering system, but also quality information that will help you keep up with industry trends and restock your store with new and exciting products.
As we approach three quarters of a century in the hobby business, our company continues to evolve and create new tools and services for our customers, while keeping up with traditional, personal customer service and insuring that both you and we are looking forward to work every day, knowing that we are working in the best and most exciting industry on this planet and that we will continue to make significant innovations and contribute to the growth and prosperity of the hobby industry.